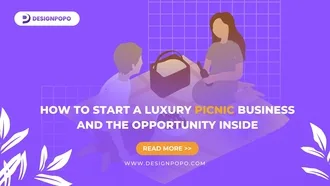 How to start a luxury picnic business – Not a lot of people know it, but there's a real opportunity in Luxury Picnic. Though its exclusivity and obscurity can be a deterrent for aspiring businessmen at first, if you're dedicated to the craft, it can be quite profitable.
And to help you with that, here's a guide on how to start a luxury picnic business as well as a detail on the opportunity we mentioned earlier.
Read More : How to Start a Stationery Business: The Complete Guide
What is a Luxury Picnic Business?
As you might've guessed, it's important to understand what a luxury picnic is before starting this guide on how to start a luxury picnic business.
A luxury picnic is a type of business that offers high-quality food and drinks, and often, entertainment, in a remote location.
This is to cater to people who want to feel pampered and treated like royalty, away from the hustle and bustle of the normal world. The best part about luxury picnics is that they can be done almost anywhere.
You don't need to find a remote area to set up a shop. You can cater to people in metropolitan areas as well, provided you have enough storage space for the items you're serving. This makes it a flexible idea that can be done just about anywhere.
Things you'd need for a Luxury Picnic Business
Though it may vary depending on what kind of luxury picnic niche you pick, generally, here are some of the things you'd need for it.
First is the business name. Luxury picnic as a business relies heavily on branding, so make sure to come up with one that's memorable and reflects what kind of experience your clientele will get with you as their luxury picnic provider.
The second is the business plan, a general thing like your business' structure, et cetera.
After that is the inventory. This will undoubtedly be the most important thing for a luxury picnic business and this how to start a luxury picnic business guide. As its 'luxury' implies, your inventory will have to be quite lavish too. This means you also need a good eye in picking out fancy stuff to be your inventory.
Read More : How to Start a Trailer Rental Business for Beginners
Brainstorming for the Niche for your business
The first step in building your Luxury Picnic business is to decide on the niche you're going to go into.
Before you do that, however, it's best if you take some time to brainstorm and come up with a variety of ideas.
You can use a few simple questions to help you do this: what do you want your customers to experience? Are you interested in a gothic Lolita-style luxury picnic? Or are you more into the Victorian scenery instead?
Either way, you'll have to find your niche for this business.
Choosing and Creating Your Marketing Strategy
Next in line for this how to start a luxury picnic business is to choose and create your marketing strategy. We personally would recommend online marketing as it's the most efficient and easiest to do.
With a luxury picnic as a base, we recommend setting up an Instagram and a Facebook account. Instagram is mostly preferred as it's the right environment for things like luxury picnics.
In addition to that, we also recommend setting up your own website to help people find your business easier. Make sure to pay attention to SEO as it'll help you appear on search results more.
Starting Your Business
As for the final step on how to start a luxury picnic business, it consists mostly of the boring legal tasks you have to do. Register your business' name to the official and get your employer identification number. Once you do that, you have pretty much finished this guide on how to start a luxury picnic business.
Read More : How to Start a Glitter Business: Everything You Need to Know
Conclusion
Running a business is not a walk in the park. It requires perseverance, planning, and patience. When you work on starting your business, make sure you're ready to make some sacrifices.
This includes having the right mindset, working long hours, having financial stability, and setting up your business properly. If you follow this guide on how to start a luxury picnic business, you should be able to start your business successfully.
Though whether it's a smooth-sailing from here on out depends on you and your future decisions for your business.