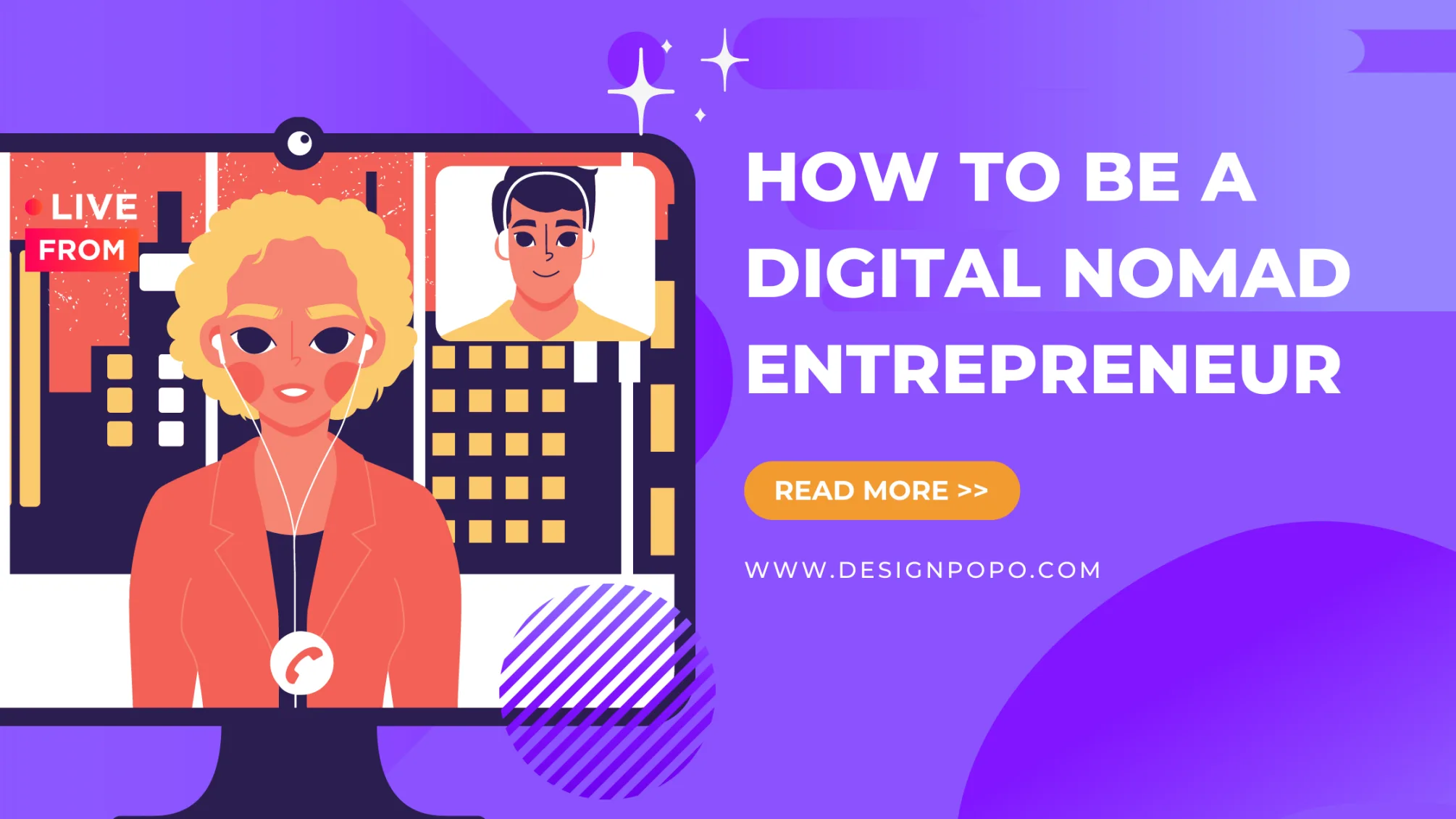 Digital nomad entrepreneur – inside the digital world makes human life more manageable. Everything feels more accessible and more flexible. This article will give you information about digital nomads, including how to be a digital nomad entrepreneur.
What is Digital Nomad
Digital nomad entrepreneur is a term for someone who works without being bound by time and place. The term nomad itself means to move from one place to another. It means you can work anywhere like in a library, coffee shop, at home, or even on the beach. In other words, you can work while traveling.
Thus, digital nomad routines are much more flexible than working in an office. You don't have to get up early, get stuck in traffic, or stay late at the office. You only need two main things: a laptop and internet access.
It sounds like working with a remote system, however, there are differences between the two. A digital nomad is a profession where you can work anytime and anywhere. Whereas working remotely, means you are free to work anywhere, but with predetermined working hours.
There are many types of digital nomad jobs today. Starting from copywriters, and digital marketers, to virtual assistants. Although it sounds very easy and fun. However, that does not mean this job is not without challenges.
8 Steps On How to Be a Digital Nomad
The digital nomad entrepreneur lifestyle is really a trend nowadays. These are some steps on how to be a digital nomad entrepreneur so that you become a successful digital nomad.
Step 1, Find out why you want to be a digital nomad
Before deciding to become a digital nomad, ask yourself why you want to be a digital nomad. Think carefully so that you stay motivated and don't regret it later.
For example, by becoming a digital nomad you feel more comfortable at work because you can work while traveling. Or, by working as a nomad, you feel you can learn more from valuable experience. Whatever it is, keep on cultivating your motivation, so that you stay motivated at work.
Step 2, Know Your Skills
After knowing your intentions, the next step is to determine what kind of job you want to do. Choose a job that matches your interests and skills.
Currently, there are many various job vacancies that offer remote work systems. Such as copywriting, digital marketing, translators, data analysts, website designers, and so on. This can certainly support your plan to become a digital nomad.
Determine a job that matches your previous experience or educational background. So, it will be more credible in the eyes of clients.
Step 3, Create a Portfolio
The portfolio is a collection of documentation of the work you have ever made. Both the work while working at the old place, as well as the project results when you were a freelancer or the work that you have never published before.
Having a portfolio is very important for a digital nomad. This can be used as a reference for clients or recruiters to determine your salary and also to assess whether you are eligible to be hired or not. From the portfolio, you can also ask for the appropriate wages.
Therefore, prepare your portfolio well before starting to look for work as a digital nomad. If necessary, you can create a special website for your portfolio to add to your professional value.
Step 4, Find Jobs with Remote System
As a digital nomad, the type of work that suits you is of course remote or freelance. Today many companies implement remote systems for various positions. Especially startups. So, you can look for vacancies from companies that are more focused on the digital world.
Currently, there are many websites and applications to find freelance work, both locally and internationally.
Step 5, Do a Trial
Are you able to work as a digital nomad or not? Do a test run first. How to do it? If you are currently still an office employee, you can ask for permission to work remotely within a few days. Then, go to some place you like and work there. If you feel more productive, focused, and comfortable with these conditions, it means you are ready to work as a digital nomad.
Another way is to look for freelance projects. If you can work on projects well without disturbing office activities, then you have good time management. That's the key to being a digital nomad.
Step 6, Prepare Savings
As you know, the challenge of a digital nomad is an uncertain income. Therefore, prepare enough savings to live it.
If at one time you get a lot of high-paying projects, some can be added to your savings. If at other times you find it difficult to get clients, you still have spare funds to survive.
Step 7, Make Planning and To-Do List
A digital nomad must have good job management, as well as good time management. Because this is related to your productivity. With good planning, you can complete your assignments on time.
This is important for your credibility in front of your clients. In order for your planning to go well, making a to-do list can be the best solution. The list will help you manage your working hours and your time.
Make sure you can commit to the schedule that has been made because you are working without anyone's supervision.
Step 8, Join the Digital Nomad Community
When you become a digital nomad, you may feel bored. Joining a community can be a pretty effective solution.
Currently, you can find many communities in various forums on the internet. By having a community, you can get a lot of information, tips, and advice from experienced people. Another benefit is that when you need help, your community can help you. That are the steps on how to be a digital nomad entrepreneur, hopefully, it will be useful for you. The conclusion is to do your job responsibly, be disciplined and motivate yourself to be a successful digital nomad. The effective worker side of the digital nomad entrepreneur is a skill. You can sharpen your skills day by day to be better. Happy working.